About Us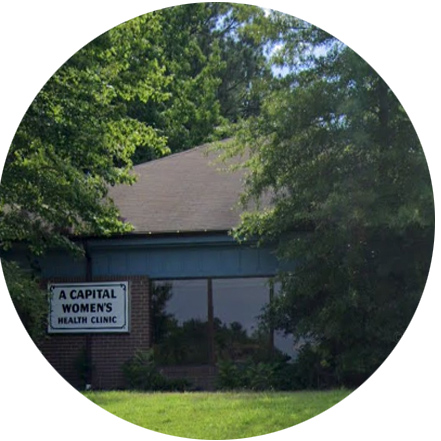 About Us
Your Local Provider
Our staff at A Capital Women's Health Clinic have dedicated their lives to protecting abortion access and to providing the highest quality of care available.
We have been an active part of the Richmond, Virginia community since 1997 and pride ourselves on the fact that we are a caring group of professionals who live and breath access to abortion care in Virginia.
Because we are part of a small organization, we are able to move quickly to help fight laws that are being proposed at the Virginia State Capitol building downtown. We have been active in testifying against onerous bills, and active in organizing public events to speak out against discrimination against women and families that need abortion care.
Our staff is always thinking about how we can protect your access and how we can provide you with the best possible experience while you are in our care.
We hope that you will call or visit us, and we ask that you PLEASE SUPPORT YOUR LOCAL PROVIDER. When you choose us and choose local, you are choosing to support professionals that have dedicated their lives to supporting you and your health care decisions.
We offer abortion services to help meet the unique needs of women. We specialize in abortion care, and are proud to call ourselves experts.
Our Commitment
Our commitment is to provide confidential health care to women in a safe and professional environment. It is our conviction to respect a woman's reproductive choices specifically regarding a woman's right to control whether she wants to become a parent or not.
Our Facility
Since our establishment, we have developed an outstanding reputation for providing quality abortion care and emotional support for our patients.
We are conveniently located in a private medical building in Richmond, Virginia. Our modern facility in the Regency Square shopping area provides a comfortable atmosphere for our patients and their guests. Our staff follows the strictest confidentiality guidelines to insure the privacy of our patients.
All of our licensed physicians have extensive care and expertise in abortion care. Licensed nurses, laboratory technicians, and trained counselors comply with Virginia state regulations and local medical standards.
We are a member of the National Abortion Federation (NAF) and are in compliance with their high standards for safety and patient-centered care.
We are pleased to announce that we now have FREE WI-FI for the convenience of our patients and their guests.
Eligibility
Eligibility for abortion procedures is up to the physician performing the abortion. Patients traveling great distances should have their pregnancy confirmed before making an appointment.

Less Stressful
I was extremely impressed with the staff, doctors, and the overall cleanliness of the facility! The whole experience was less stressful than expected." – Google review
Amazing staff!
They were all extremely professional, personable, and kept me calm through the entire process. It's very clean and comfortable place." – former patient
No Judgment
Great place. Genuinely care about women. Safe environment. No judgment. Kind staff. Variety of health services. Reliable health care the way it should be!" – Google review
Nice clean office
Staff and doctors made me feel very comfortable. I've been to other offices in the area, this one is the best by far!!!" – former patient

Right to make a choice
People should have the right to make a choice. Thank y'all for all you do." – Google review